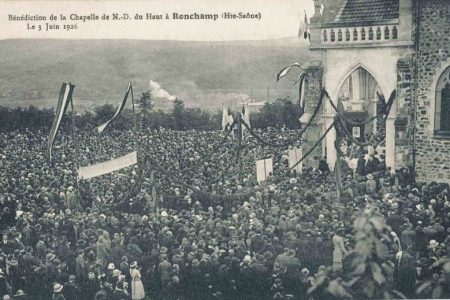 THE RELIGIOUS HISTORY OF THE HILL
The privileged situation of the site, at the top of the hill, encouraged the settlement of a place of worship, probably at a time when Christianism was taking root in the region at the end of the 6th century A.D.
A pilgrimage was mentioned as early as the 9th century. Pilgrims have come from the whole region ever since to pray to the Virgin Mary on the 8th September, Nativity of Mary. Unhappily, we have no ancient sketch of the Chapel dating from this period.
It is only during the 20th century that the second pilgrimage was established, on the 15th August, for the Assumption.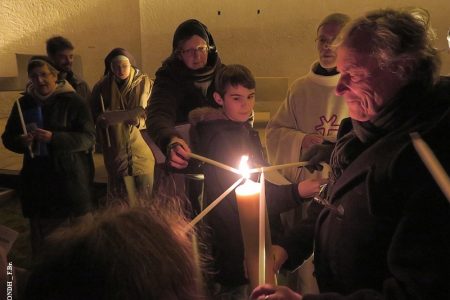 RELIGIOUS LIFE ON THE HILL
Spiritual life has its summit and its regularity in the celebration of the mass, daily and on Sundays. The mass is prepared with St Clare's nuns, with the support of the members of the Pastoral Committee. It is celebrated every Sunday with a different congregation, composed of different nationalities, according to the pilgrims of the day.
Four main points :
Prayer
Inter-religious and inter-spiritual welcome
Global environmental-consciousness and environment
Peace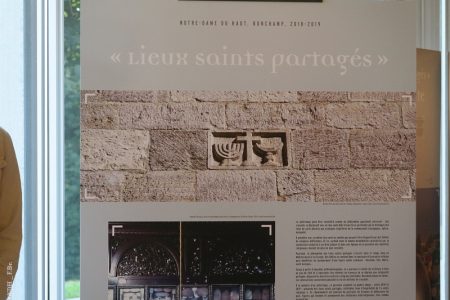 INTER-RELIGIOUS LIFE ON THE HILL
Inter-religious and inter-spiritual meetings: the whole world comes to this Chapel, which welcomes all the spiritual trends, whether they are religious or not. In our multicultural society, all kinds of traditional religions can be found (Judaism, Christianism, Islam, Buddhism, etc.), as well as philosophies and humanist spiritual feelings. For years now, inter-religious meetings have been taking place in the Chapel with friends from Islam or Judaism, for instance. Cultural events (concerts, artistic performances) also allow other spiritual trends to express themselves. They are always welcome.